Bank of Canada Rate Increase
Date Posted: March 2, 2022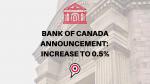 The Bank of Canada decides to increase it's staple interest rate for the first time in three years.
The BoC announced Wednesday that it will increase the rates from 0.25 percent, where it has remained since the beginning of COVID-19, to 0.5 per cent.
The last time we have seen an increase in the rates was October 2018 when it jumped up to 1.75 per cent. Since then, we have seen a downward trajectory consistently until the latest announcement.
After signalling changes a few weeks ago, the BoC announces it would no longer promise to keep the rate at emergency levels. Two years ago this week, we saw the decision to cut its key policy rate to compensate for any economic fallout from COVID-19.
At the end of 2021 we have seen a roaring housing market and inflation rates at three-decade highs, which gives signs that it may be time to increase rates from emergency levels.
This first increase may have the largest affect on households managing their debt, but we won't see major affects on the country's housing market until the rates are raised by a full percentage point according to Douglas Porter of BMO.
Typically, a rate hike takes anywhere between 6 months to 18 months until it influences headline inflation.
With the annual inflation rate sitting around 5.1 per cent as of January we can only expect it go keep rising with the increase in global oil prices.
See Full Release from Bank of Canada here